Brianna Moreno
Ribbon Ribbon
April 28 - May 22, 2022
New York, NY –– WHAAM! is pleased to present Ribbon Ribbon, the inaugural New York solo exhibition by London-based artist Brianna Moreno, featuring ten new works on paper. 
Through mystical settings and recurring motifs, Moreno's illustrations often explore themes of folklore and simple ways of storytelling. In this current body of work, she marries approachable characters, from bunnies to frogs, with delicate pastel palettes, concealing the underlying dark and satirical elements within these narratives. 
Moreno's process often begins with reading etiologic tales and connecting her personal story to them.  This set of illustrations mirror Moreno's inspiration from fables and learnt lessons, varying from tedious tasks the hero has to accomplish to break the aforementioned spell, to explorations of honor, or broadcasting warnings of evil. In each piece, none of the human characters are interacting, yet the animals depicted become extensions of the self to communicate through. Her tongue-in-cheek comparison of old folk tales and her personal connection to pop-culture creates a world in which both the faux and the bonafide can coexist. 
About Brianna Moreno
Brianna Moreno is a London-based artist whose works has been exhibited at Printed Matter in New York as well as at the Galerie du Jour - agnès b in Paris. Moreno creates universes where simultaneous realities co-exist with its fantastical and realistic figures - often seen as extensions of the artist, imagined from old folk tales and mythical stories with fairies, nature and mischief. Moreno's illustrations are made with felt tip markers on newsprint, an homage to analog techniques and folk art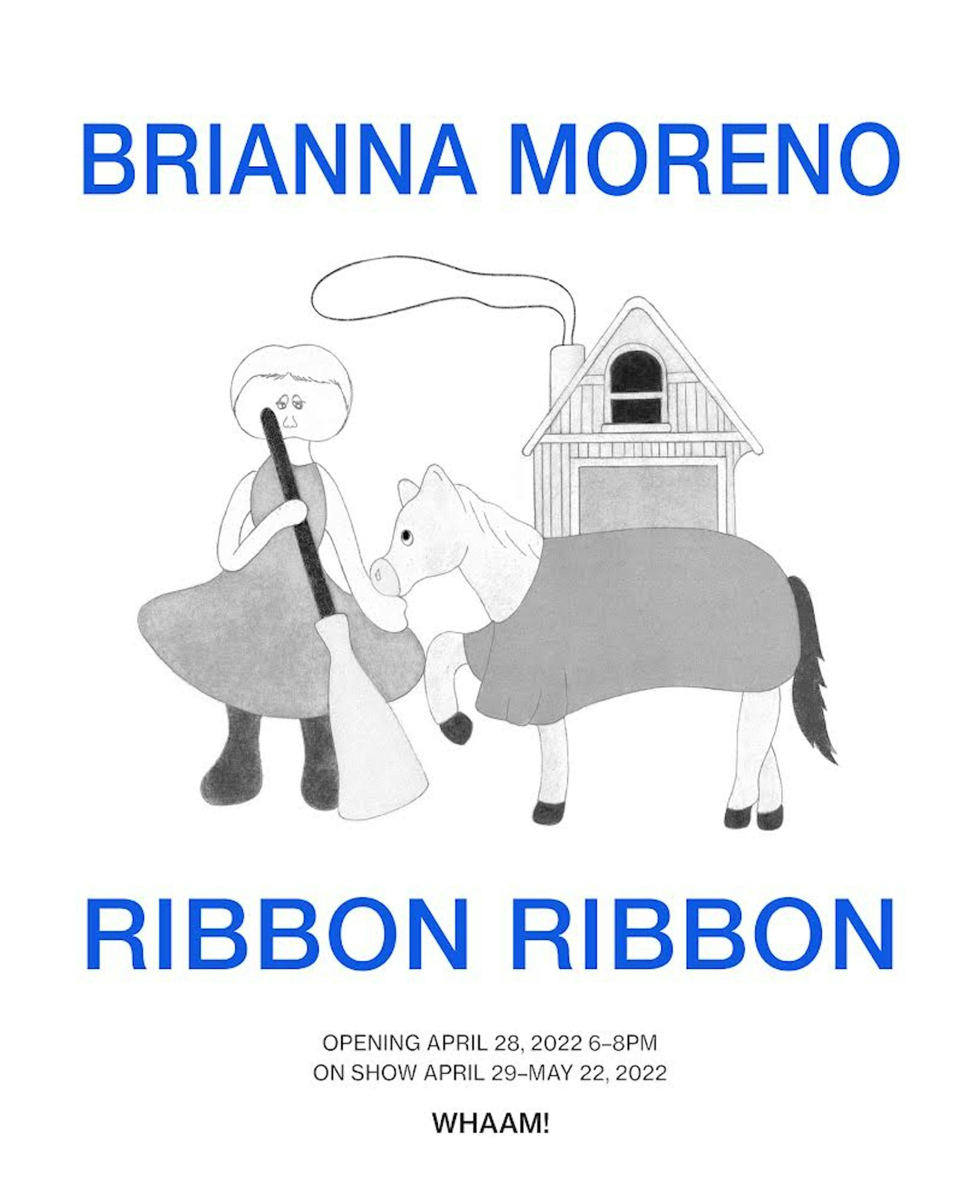 Gregory Shimada
Life Is So Long
November 20-January 6, 2022
New York, NY –– WHAAM! is pleased to announce Life Is So Long, an exhibition by New Mexico-based artist Gregory Shimada. 
In this set of over 100 paintings created throughout his lifetime, some produced in his childhood years, Shimada creates a visual language using cultural references to reflect on the passage of time and humanity as defined by quotidian terms. With a background in graffiti for the past decade, Shimada's transition into painting became synonymous with maturation, becoming a form of therapy for him to release and process the good and bad energy that came with reliving and immortalizing memories themselves. 
Shimada regards painting to be an integral point in the trajectory of finding his voice as it enables him to practice an ideology of catch and release when referring to past moments and the periods that marked them. This set of paintings reflect his need to capture every moment like iconic Jordan 11's pink snakeskins, memories, and ideas like the fondness of Now! That's What I Call Music CD releases and checks made out courtesy of Arby's. Moreso, these screenshot moments of Shimada's life mirror the move towards his next chapter as he continues to infuse recollection and energy into his work. Shimada's range in application and medium is seen throughout his pieces, utilizing found objects such as cardboard or clothing as a canvas. Key pieces like those depicting shoes he wanted as a teen reflect a kind of sentimentality innate to his work. By imbuing the emotions of preserving secrets in time, Shimada believes it is important to display all of the paintings at once, in a maximalist launch style which acts as a blueprint read out of his brain.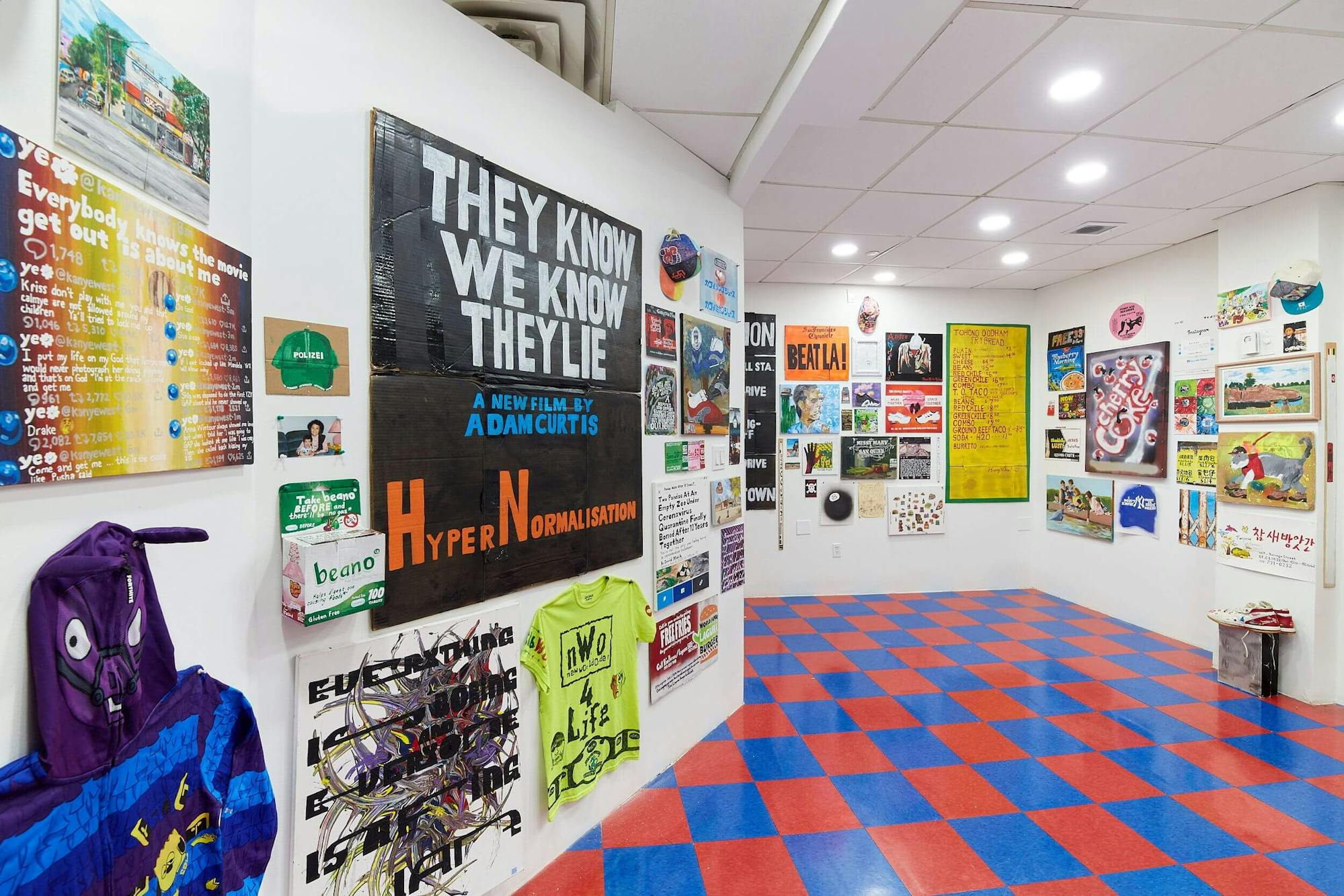 Shana Sadeshi-Ray
Thread The Needle
August 19 – September 26, 2021
WHAAM! is pleased to present Thread the Needle, a debut solo-exhibition by Brooklyn-based artist Shana Sadeghi-Ray. From the literal use of needle and thread in the Plushie Land series, to Good Luck Charm, a beaded basketball hoop, where "threading the needle" is one of the artist's favorite offensive assists in the sport, Sadeghi-Ray teases the multiplicity of the phrase, mirroring its versatility in the mediums through which her work is displayed. The exhibition also includes a limited edition run of charm bracelets handmade by Sadeghi-Ray, all proceeds from which will go to Brooklyn's community fridges. 
A storyteller by default and not by definition, Sadeghi-Ray is undeniably a world-builder, a champion of the subjective utopias that exist in our imaginations. These fantastical proclivities often glitter under the surface and rarely take a gasping inhale breaching the surface of our subconscious as we self-censor adhering to collective ideas of cool. Sadeghi-Ray's practice defies these expectations as she allows her own affinities to take the wheel, swerving between kitsch and anthropological while staying in her own lane. 
Sadeghi-Ray's unifying thread is the contextualization of what it means to play. Growing up as a first-generation American, Sadeghi-Ray observed fandom from the sidelines, through nuance, gawking at America's "main-character energy" culture and literally, as she became a devout fan of the NBA. In both contexts, she found material objects at the center of these respective belief-systems –– a handbag that represented an insider's cultural currency, or a lucky charm that a fan would hold with a clenched fist during every free-throw. Objects could be imbued with emotions and she could transform them entirely while recalibrating their value by experimenting with accessibility, altered narratives and mass nostalgia made synonymous with aspiration. By making them her medium for provocation sans rigid concept, allowed Sadeghi-Ray to create an aesthetic that resonates at high-frequency with pop-culture because it embodies the kind of luxury we all unknowingly desire, the ability to play and bring these to life as they exist in our own mind's eye, freely, mounting a whim. To play is to process, to thread the needle with eyes closed.
Exene Karros
Life on Earth
April 24 – August 1, 2021
WHAAM! is pleased to present Life on Earth, a solo-exhibition by Philadelphia-based artist Exene Karros. In this new body of paintings, Karros perceives an unlikely duality between spirituality and technology and uses symbols to create commentary that exposes their intersectionality regarding obsession. As she continues to fine-tune and calibrate her technical skills to align with her curious predisposition, Karros' approach is as simultaneously profound as it is tongue-in-cheek. Life on Earth is a mirror for reality imbued with emotional triggers most familiar to our teenage selves who revel in angst, finding flair and flames in the dramatic. 
Through Karros' evolving practice, the artist unearths the new enigmas wrought unto society by technology –– from surveilled landscapes, breached privacy, to rogue A.I. –– and finds these dilemmas reflected in the classic problems adjacent to religion and philosophy. To grow up today is to grow alongside the augmented shadow that technology casts in a shared plot whose climax is resigned. Sublimation bubbles slowly, swelling before the pop.  Some days we see more blue light radiating from our screens than sunlight, and our digital footprints don't lead us home but into tomorrow's abyss. Belief is calculated voyeurism and we worship the algorithm with a new holy trinity (Like, Comment, Holy Influence). Until satellites allow us to knock on heaven's door, we can take solace in the fact that angels exist and find Life on Earth.
Devin Beck
May 20-June 13 2021
Devin Beck a Brooklyn-based and Houston-bred, self-taught artist who specializes in painting nightmarish hellscapes in acrylic, using traditional brush techniques as well as airbrush. Within her work, Beck sees isolation and vastness and wants the viewer to have a similar experience. She seeks to amplify the state of our world and the unsustainability of our lifestyles to yield a glimpse into our futures. The fantastical and religious aspects present serve as symbols for the greater evils that will one day transform our current reality into an abysmal dystopia. 
Beck regards painting to be therapeutic as it enables her to shut out the often overstimulating chaos of the world, finding focus and in turn clarity. These works were created within the past year, birthed in a windowless room, setting the tone for the series in which she pays homage to surrealist painter, Yves Tanguy, whose influence she regards to be pivotal. In Beck's debut show, immersion becomes captivation, as she invites us to wander amidst a world of desolate landscapes, to breathe the air that dragons do, to let go and enter another realm.
Andrew Durgin-Barnes
Western Landscapes With a Side of Fruit
April 14 – May 5, 2021
Whaam! is pleased to present Western Landscapes with a Side of Fruit, an exhibition of new works by Andrew Durgin-Barnes and the artist's first solo presentation with Whaam!. The exhibit, comprising a group of oil paintings, will be on view from April 14th through May 9, 2021.
Western Landscapes with a Side of Fruit turns a biographical lens on the roads less traveled, offering a hybrid approach to Andrew's purist practice as he utilizes both spray paint and oil paint as mediums for these pieces, all created within the span of a month during the artist's solo travels across Oakland, Los Angeles, and Washington State. This body of work serves as a bridge between traditional and new practices, having previously kept these entities separate to weave an ongoing narrative in which heavy elements of realism are juxtaposed with tinges of the surreal. His mastery of composition is demonstrated as subject matter takes a back seat, its importance recontextualized as we continue to mine the aesthetics of beauty. 
A classicist at heart with a penchant for graffiti, the Los Angeles-based artist not only sought to capture these visual panoramas but the feelings that accompanied them. He found that it was light, sometimes fractured, others blaring, that gave these landscapes and still-life forms their intrinsic emotions evoked by shadow and shine, light and darkness. While these paintings are almost photographic, Durgin-Barnes notes that painting provides you the opportunity to embellish certain details, immortalizing these fleeting emotions in a way that you couldn't necessarily do by just clicking a camera shutter. 
Continuing to elevate subtleties, Durgin-Barnes strives to simply paint, rejecting the transcendental and boundary-pushing expectations by modern art practice. Instead, he takes aspects of classically driven work and uses these representational elements to work through his love for the world around him.
New Reader
Reading Room
New York
February 18 – March 28, 2021
Whaam! presents Reading Room by New Reader. Reading Room is a library of books selected by artists, musicians, scientists, educators, public figures and more in response to the question: In isolation, what parts of yourself have you recovered?
Reading Room's contents are available online accompanied by a directory of every independent bookstore in New York City. A printed version, featuring illustrations by Whaam! artist Hunter Ney is available in bookstores throughout the five boroughs.
New Reader is an online library that organizes books by people. Through interviews, New Reader catalogs the sources that shape their minds. Newreader.net | @newreadernet
Adrienne Kennedy
Andre Walker
Arca
Avi Loeb
Beatrice Domond
Bernadette Van-Huy
Chito
Collier Schorr
Commission
DeSe Escobar
DIS
Elise By Olsen
Exactitudes
Fran Lebowitz
Gio Escobar
Hans Ulrich Obrist
Hassan Rahim
Imad Khachan
John Pawson
Kiko Kostadinov
Liz Johnson Artur
Navy Blue
Nhạc Gãy
Slick Rick
Speed Levitch
Tanya DePass
Zarina Muhammad
Furniture Judd Foundation + Salon 94
Shelf Vitsoe + Strand Bookstore
Support Burberry
Sylvain Munoz
Pleasure Garden
New York
January 14 – February 7, 2021
New York, NY –– Whaam! Is pleased to present ​Pleasure Garden,​ the first solo exhibition by New York artist ​Sylvain Munoz​, opening on January 14 and on view through February 7, 2021. Made almost entirely during the 2020 city shutdown in the artist's Chinatown studio, ​Pleasure Garden depicts a fictional world that is inhabited by all facets of Munoz's imagination. It is a stage on which Heaven, Hell, and humanity mingle –– a modern, almost futuristic sin city, manifesting the pleasure of media consumption versus the evils of modern technology.
A self-taught artist born and raised in New York City, ​Munoz's fantastical and painterly landscapes on canvas subvert the sexually charged in a playful, cartoon-like aesthetic, drawn from his nostalgic affinity with the 20th-century pop culture references he grew up with, from action figures to the 1993 ​video game Doom to the 1954 film ​Godzilla. ​While attending school in Greenwich Village, Munoz noticed the ​nearby sex shops and developed a deep fascination with New York's BDSM and leather culture –– a curiosity that inspired his collecting of fetish magazines to create collages. a primary reference in the artist's work. Many of Munoz's paintings are cities within cities, micro snapshots that become part of his larger canvases, detailed in triptych-like compositions. ​A close look at his ​macrocosmic landscapes, reminiscent of Hieronymus Bosch's ​Garden of Earthly Delights​, reveals curious details and characters in intimate instances, in child-like depictions – threading escapism and confrontation, the familiar and the mysterious, the pleasurable and the morbid.
Hunter Ney & Alex Petty
Tea World
New York
November 19 – December 10, 2020
New York City has long been home to the spooky and the strange––to lore and legends of ghosts and goblins, slimy creatures that lurk the tunnels and tracks beneath the streets, creepy crawlers that inhabit the nooks and crannies of the city's darkest corners waiting for the light to fade. Rats rule from below, gargoyles gaze down from the building facades above, and no matter how polished the block may seem, no one is safe from the supernatural.
Tea World, a joint exhibition at WHAAM! featuring New York-based artists Alex Petty and Hunter Ney, turns a light-hearted lens on the gritty and the grotesque, offering a comical, romanticized take on the gruesome monstrosities of the city.
Alex Petty, an illustrator, painter and tattoo artist, has always been intrigued by fantastical characters and creatures that play on themes of the evil and horrific. Reimagining them in a playful, cartoonish aesthetic reminiscent of Goosebumps or Scooby-Doo, he often renders his creations in neon and pastel tones of yellow, green, and pink, in a style uniquely his, subverting the spooky with humorous undertones.
Hunter Ney is a multidisciplinary artist based in New York originally from the Bay Area, whose work has been primarily rooted in transforming and augmenting pre existing characters, symbols, and signs to create new worlds of his own, often fictional scenes that border on the surreal.
In this new body of work for Tea World, Ney begun exploring a new technique using Cyanotype, a photographic printing process that produces cyan-blue prints that involves transferring chemicals onto watercolor paper exposed to UV light––a process used in the 20th century by engineers to copy drawings that would become known as "blueprints." Ney had always been curious about the technique, wanting to achieve these deep and strong blue hues — this new medium demonstrates his versatility and evolution as an artist, and allows him to continue to test the art world's hierarchy of taste.
#whaamwhaam
@whaam.whaam

Contact
info@whaamwhaam.com

Press
Gia Kuan
gia@giakuan.com
+1 917 445 0194
Home
Virtual Exhibition
March 27 – April 17, 2020
Curated by Anatoly Kirichenko
WHAAM! is pleased to present HOME –– a virtual group exhibition that invites twenty-five multimedia artists across the globe to create works during the new normal, in the confines of their personal space. Featured artists include Adam Zhu, Aeja Monet, Alex Petty, Ally Bo, Andrew Durgin-Barnes, Brie Moreno, Carolina Lindberg, Chito, Chris Lloyd, Devin Beck, Dylan Kraus, Ellie Andrews Gonzalez, Hank Reavis, Hunter Ney, Jason Fox, Justin Hager, Michelle Guintu Petty, Noah Trimble, Nick Atkins, Rob Brackett, Ronan McGee, Sara Yukiko, Shana Sadeghi-Ray, Sharif Farrag, Ten Yung Han, Victor Morales, and more. Home, to be openly interpreted as feelings of familiarity, a place of physical solitude or ground of new creativity and documentation. The exhibition will commence on Friday, March 27th and new works, as well as artist processes will be on view daily through the @whaam.whaam Instagram for a three weeks duration through April 17th.


Portions of the proceeds from HOME will go to Bowery Mission to aid in providing emergency care: safe shelters, essential programs, and nutritional to-go meals for New York City's most vulnerable population during Covid-19, as they need our help more than ever.


WHAAM! was established in 2017 as a cultural club to promote New York City sub-cultures through creative lenses spanning literature and visual art. Since it's opening, WHAAM! has hosted a series of monthly book talks. In 2019, WHAAM! opened its physical space in downtown New York, with the aim to foster the next wave of artists through literature and visual programming.
Artists


Adam Zhu
Aeja Monet
Alex Petty
Ally Bo
Andrew Durgin-Barnes
Brie Moreno
Carolina Lindberg
Chito
Chris Lloyd
Devin Beck
Dylan Kraus
Ellie Andrews Gonzalez
Hank Reavis
Hunter Ney
Jason Fox
Justin Hager
Michelle Guintu Petty
Noah Trimble
Nick Atkins
Rob Bracket
Ronan McGee
Sara Yukiko
Shana Sadeghi-Ray
Sharif Farrag
Ten Yung Han
Tone
Victor Morales
#whaamwhaam
@whaam.whaam

Contact
info@whaamwhaam.com

Press
Gia Kuan
gia@giakuan.com
+1 917 445 0194
Noah Trimble
Solo Exhibition
New York
January 24 – February 9, 2020
Whaam! is please to present the first solo show by Brooklyn-based artist Noah Trimble known for assemblage out of everyday objects, and works primarily in textile collage and mixed media. Trimble uses found materials to create artworks that represent his experiences and surroundings.
More Than A Feeling
Group Exhibition
Miami
December 6 – 8, 2019
Curated by Ally Bo and Anatoly Kirichenko
Whaam! is pleased to present a group exhibition in Miami, Florida titled More Than A Feeling, featuring the works of thirty-three multi-disciplinary artist across the U.S., Canada, Mexico, and Europe. Co-curated by Ally Bo and Anatoly Kirichenko, the exhibition will be on view from December 6th - 8th, 2019 at the abandoned Rice Hotel in Downtown Miami (30 N Miami Ave) - programmed concurrently with Art Basel Miami.
Artists
Aaron Pierce
Ally Bo
Andre Thompson
Andrew Durgin-Barnes
Brie Moreno
Chito
Chris Lloyd
Christopher Currence
Devin Beck
Dreony Cuvilje
Dylan Kraus
Ellie Andrews-Gonzalez
Exene Karros
Geraldine Salgado Haro
Gisselle Wilson
Hank Reavis
Hunter Ney
Jonathan Puglia
Keagan Dakkar
Lambo
Mario Ayala
Mark Custer
Michelle Guintu Petty
Noah Trimble
Sara Yukiko
Shana Sadeghi-Ray
Tone
Victor Morales
Will Sheldon
Zev Megasis
Zora Moniz
#whaamwhaam
@whaam.whaam

Contact
info@whaamwhaam.com

Press
Gia Kuan
gia@giakuan.com
+1 917 445 0194
Right On
Christopher Currence
Solo Exhibition
New York
November 22 – December 1, 2019
WHAAM! is pleased to present the first solo show by Brooklyn-based photographer Christopher Currence whose works explores the intricacies of contemporary Pan-Africanism. Currence premiered his short film 'Don't Worry' at the Brooklyn Academy of Music In May of 2019 and was also featured in WHAAM's first group show 'No Time Like The Present'. Currence's new photo booklet, 'Inshallah', was recently published by Chaos Books and sold at Dashwood Books. Currence's solo exhibition Right On features the artists works spanning from 2014-2019.

Since it's opening, WHAAM! has hosted a series of monthly book talks. In 2019, WHAAM! opened its physical space in downtown New York, with the aim to foster the next wave of artists through literature and visual programming.
#whaamwhaam
@whaam.whaam

Contact
info@whaamwhaam.com

Press
Gia Kuan
gia@giakuan.com
+1 917 445 0194
Selected Press

Office
November 25, 2019
"Right On"
by Caroline Brown
Driving Forces
Group Exhibition
New York
October 17 – November 6, 2019
Curated by Ally Bo

WHAAM! is pleased to present the gallery's second group show titled Driving Forces, featuring 15 multidisciplinary artists from the U.S., Canada and Europe, curated by New York-based curator and artist Ally Bo.

Since it's opening, WHAAM! has hosted a series of monthly book talks. In 2019, WHAAM! opened its physical space in downtown New York, with the aim to foster the next wave of artists through literature and visual programming.
Artists


Alex Petty
Chris Lloyd
Dreony Cuvilje
Dylan Kraus
Ellie Andrew Gonzalez
Geraldine Saldago Haro
Lambo
Michelle Guintu Petty
Noah Trimble
Tone
Zev Magasis